Passion for Progress – Advancing Biomedical Research
A student led conference, supported by the RCSI faculty office, it seeks to provide an opportunity for undergraduate medical and healthcare students to develop their research skills and expand their network in an international setting.
***
REGISTRATION FOR ICHAMS 2014 IS NOW OPEN. PLEASE CLICK HERE TO REGISTER. PLEASE CLICK HERE FOR ABSTRACT GUIDELINES. SEND ALL ABSTRACTS TO  ICHAMS_abstracts@rcsi.ie. 
***
We are excited and proud to announce that ICHAMS has won Student Project of the Year at the Irish Healthcare Awards, held in the Shelbourne Hotel, Dublin on Thursday 7th November. We hope that this is the first of many more to come!
Pictured (back row ) is Mr. Jeffrey Nafash, Mr. Daniel Creegan, Mr Sami Backley, Ms May Ahn Nguyen; Mr Vincent Healy and Ms Nikita Rane with (front row l-r) Ms Young Hwa Soon, Co-Chair ICHAMS 2012, Dr Sarah O'Neill, Molecular & Cellular Therapeutics, Professor Hannah McGee, Dean of the Faculty of Medicine and Health Sciences, RCSI, Professor Ray Stallings, Director of Research, RCSI, Ms Rebecca Horgan and Ms Layveeniea Ananthan, both Co-Chairs ICHAMS 2013
All the RCSI staff and students who made ICHAMS 2013 successful!
Expect the unexpected in Ireland!!!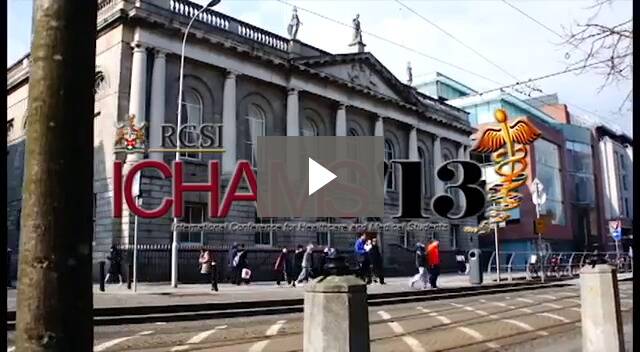 Conference abstracts will be published in an online supplement with BioMed Central. Last year's abstracts can be found at http://www.biomedcentral.com/bmcproc/supplements/7/S1.